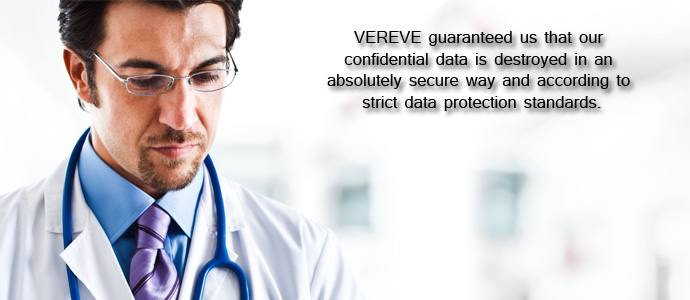 Clinics and medical practices are required to guarantee the protection of their patient data.
Therefore we pay the greatest attention to the very sensitive subject of data protection .
As a certified SPECIALIST DISPOSAL COMPANY in the area of confidential documents, it is our duty to know the federal data protection laws and all regulations exactly and to follow them.
It is impossible for unauthorised persons to have access to your patient data before it is completely disposed of/destroyed.
All our employees are contractually bound to confidentiality and informed of the penal provisions according to § 43 Federal Data Protection Act (Bundesdatenschutzgesetz).
With VEREVE you can be certain that the protection of your confidential data is guaranteed.
"Security has the highest priority for us!"